Pastor Frank
This weekend, July 2nd & 3rd at Open Range Fellowship, Pastor Frank will bring us a special and timely message called, "God Bless America." We will look at how
God has -and still is- Blessing this Nation, but for how much longer? We are at a crossroads and the Church needs to be made aware of that truth. Invite a friend and "Come and see what God is up to!"
Previous messages are always available from our Media page.
Fridays at the Farm
Pray, Play and Cook Out
An informal gathering of people with 1) hearts to disciple nonbelievers, but also 2) a desire to fellowship with other believers supporting each other during that process! Held on the second Friday of the month, the fellowship starts at 6:30pm. Call Jerry or Linda Grimmett for directions to their ranch: 816-914-0490.
Help Support Open Range
Sign Up with the Open Range "Pardner" Program
Add your support through this monthly subscription option. You can start by browsing through our online resource page and shopping experience "Open Range Style!" Click "Donate & Support" to get all the details!
Otherwise, if you just want to make a general donation for this AWESOME God Movement called "Open Range Fellowship", to help us reach the world for Jesus Christ, then click "Donate & Support" and send an e-gift online via PayPal. You can also mail a gift to: PO Box 92, Lone Jack, MO, 64070.
Open Range Logo Clothing Now Available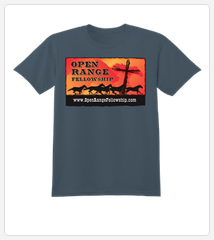 For each item you purchase, a $5 donation is set aside for our many ministry efforts. Our current drive collects these proceeds for our Building Fund and the ORF facility.
Order t-shirts, sweatshirts, hoodies, tank tops, etc. – from the site by starting with our store overview page. Get the custom order shipped right to your home address!
Come see what God is up to!