Pastor Frank

This weekend, July 30th
 & 31st
at Open Range Fellowship, Pastor Frank will bring us his final message (Part 4) of his summer series that is of great importance for the church called "Why the Cross." Part 4 will not only show us the WHY Jesus had to be the Lamb of God, but it will also help equip us to share and defend our faith. Invite a friend and "Come and see what God is up to!"
Previous messages are always available from our Media page.
Bible Studies, Adult Discussion Groups
Boundaries and Codependency
An ongoing study for women who think real freedom in Christ is worth pursuing!
We meet at Open Range every Wednesday evening this summer, beginning at 6:30pm.
Two books are used in the study, to help participants with milestone topics. But those interested may join in at any time.
Contact Carri Licata for additional information.
Fridays at the Farm
Pray, Play and Cook Out
An informal gathering of people with 1) hearts to disciple nonbelievers, but also 2) a desire to fellowship with other believers supporting each other during that process!
Held on the second Friday of the month, the fellowship starts at 6:30pm. Call Jerry or Linda Grimmett for directions to their ranch: 816-914-0490.
Let's Pray
Join us the first Tuesday of every month for intercession for the church, our leaders, and our nation.
Starting August 2 at 7:00 PM at the "New Boat"
509 W. Lone Jack/Lee's Summit Road (map link)
Lone Jack, Missouri, 64070
Bring a lawn chair!
LeadHer
"LeadHer" strives to help each woman recognize opportunities to lead, where she has been perfectly placed and called.
Each woman's personality, talents and skills are gifts from God. Empowered by the Holy Spirit, she has the capacity to make a significant impact within her sphere of influence. Our goal is to celebrate her uniqueness, increase her Biblical knowledge, inspire her Kingdom vision, and teach her to develop deeper connections with others and with God.
Join Nancy Ledgerwood & Gerilynn Hoover as they launch a local chapter of LeadHer right here in Lone Jack, at Open Range Fellowship. Meetings will be the 2nd & 4th Tuesday of each month starting September 27th, running from 7:00 pm – 8:30 pm.
Contact Gerilynn or Nancy through LeadHer@openrangefellowship.com for more information!
Help Support Open Range
Sign Up with the Open Range "Pardner" Program
Add your support through this monthly subscription option. You can start by browsing through our online resource page and shopping experience "Open Range Style!" Click "Donate & Support" to get all the details!
Otherwise, if you just want to make a general donation for this AWESOME God Movement called "Open Range Fellowship", to help us reach the world for Jesus Christ, then click "Donate & Support" and send an e-gift online via PayPal. You can also mail a gift to: PO Box 92, Lone Jack, MO, 64070.
Open Range Logo Clothing!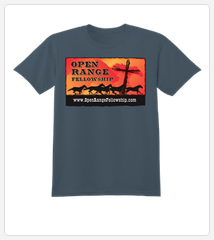 For each item you purchase, a $5 donation is set aside for our many ministry efforts. Our current drive collects these proceeds for our new ORF facility.
Order t-shirts, sweatshirts, hoodies, tank tops, etc., from the site by starting with our store overview page. Get the custom order shipped right to your home address!
Come see what God is up to!