Pastor Frank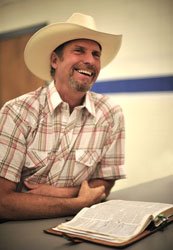 This weekend, December 10th & 11th at Open Range Fellowship, Pastor Frank will start a 2 week message called "Lowering The Ropes" (How to unleash the Power of God in our lives).
We all need a little more Holy Spirit Power in our lives and we are going to look at one of the ways to get some. Invite a friend and "Come and see what God is up to!"
Bible Studies, Discussions, Support Groups
Campfire Discipleship 2.0
Meetings held on the first and third Fridays each month, 7:00pm.
Led by Ken Forbes, the group supports and encourages your skill and confidence to share the Gospel! This new round of sessions will help you reach out to potential believers!
Questions? Call or text Ken at 816-510-0380.
Let's Pray
First Tuesday of the month, 7:00pm.
Join us as we gather to pray for intercession in the church, for our leaders and our nation.
Living Free
Thursday Nights at 7:00pm.
We'll meet for 25 weeks at Open Range:
509 W. Lone Jack/Lee's Summit Road (map link)
Lone Jack, Missouri, 64070. (No childcare provided.)
Find out more about this Christ-centered, addiction-recovery group – available on the Living Free page. Please call the church office for more information: 816-697-2002.
Women's Bible Study
Wednesday mornings at 10:00am.
"Discovery: God's Answers to Our Deepest Questions" by Will Wyatt.  You'll find it very stirring to discover what God's Word really addresses, in light of how some of our thinking has been influenced by the culture we live in. Many Christians spend their lives trying to act right, think right, and pray right—based on what they've heard God expects—only to end up frustrated and burned out. That is not the kind of life that we want to live nor replicate in others as we "make disciples" according to the Great Commission.
Come freshly discover the "answers to our deepest questions" from God's Word starting from the foundational truths that we find in the book of Romans – Wednesday mornings at 10:00!
Study books can be ordered directly for $12, or you can order a digital version at no cost! For more information, please email Terry@openrangefellowship.com.
LeadHer
Meetings on the 2nd & 4th Tuesdays each month, running from 7:00 pm – 8:30 pm.
LeadHer strives to help each woman recognize opportunities to lead, from where she has already been perfectly placed and called. Join Nancy Ledgerwood & Gerilynn Hoover as they launch a local chapter of LeadHer right here in Lone Jack, at Open Range Fellowship.
Find more details on our LeadHer page, or contact Gerilynn or Nancy through LeadHer@openrangefellowship.com for more information!
Help Support Open Range
Sign Up with the Open Range "Pardner" Program
Add your support through this monthly subscription option. You can start by browsing through our online resource page and shopping experience "Open Range Style!" Click "Donate & Support" to get all the details!
Otherwise, if you just want to make a general donation for this AWESOME God Movement called "Open Range Fellowship", to help us reach the world for Jesus Christ, then click "Donate & Support" and send an e-gift online via PayPal. You can also mail a gift to: PO Box 92, Lone Jack, MO, 64070.
Open Range Logo Clothing!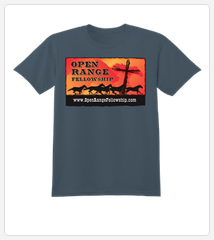 For each item you purchase, a $5 donation is set aside for our many ministry efforts.
Order t-shirts, sweatshirts, hoodies, tank tops, etc., from the site by starting with our store overview page. Get the custom order shipped right to your home address!