Pastor Frank
This SUNDAY ONLY October 18th, Pastor Frank is back with a message called "A Tale of Two Choices." This is also SUPER SUNDAY (so there is NO Saturday evening service on the 17th). After the Sunday only service we will have a Potluck BBQ so invite a friend and "come and see what God is up to!"
Previous messages are always available from our Media page.
---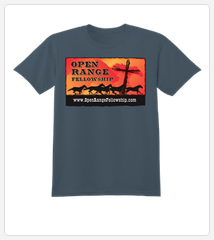 Open Range logo clothing is now available online! For each item you purchase a small $5 donation is set aside for our many ministry efforts. Order from the site yourself by starting with our store overview page. Get the shirts shipped right to your home address!
---
Open Range kicked off its "Pardner" Program with an online resource page and shopping experience "Open Range Style!" Click "Donate & Support" to get all the details! Otherwise, if you still want to join up with this AWESOME God Movement called "Open Range Fellowship" and believe in what we are doing to reach the world for Jesus Christ, then click "Donate & Support" and send a gift online via PayPal. You can also mail a gift to: PO Box 92, Lone Jack, MO, 64070.
---
Come see what God is up to!